We have a new leader atop the GB4 Championship standings, but after the most recent rounds at Snetterton, it looks like any of the top-four drivers could be in with a shout of challenging for the title as the inaugural season revs up to a thrilling climax. Here's some of the key talking points as the second half of the season kicked off in Norfolk.
Waberski (almost) breaks scoring record


It was some return to form for Jarrod Waberski, as his Kevin Mills Racing squad were back fighting at the front of the grid. The South African was a key contender all weekend, with second place in race one, his second win of the season in race two and fourth in race three. That netted him an overall points haul of 80 across the three contests, just two short of Alex Walker's record at Oulton Park. The return to form has come at exactly the right time, with Waberski closing the gap to the championship leader down to just 30 points. He'll need more good weekends from here to challenge for the title, but we all know that anything can happen in this sport, and Waberski is more than capable of delivering the goods, having taken at least one podium at each event this year.
Maiden win caps off Sherwood's podium run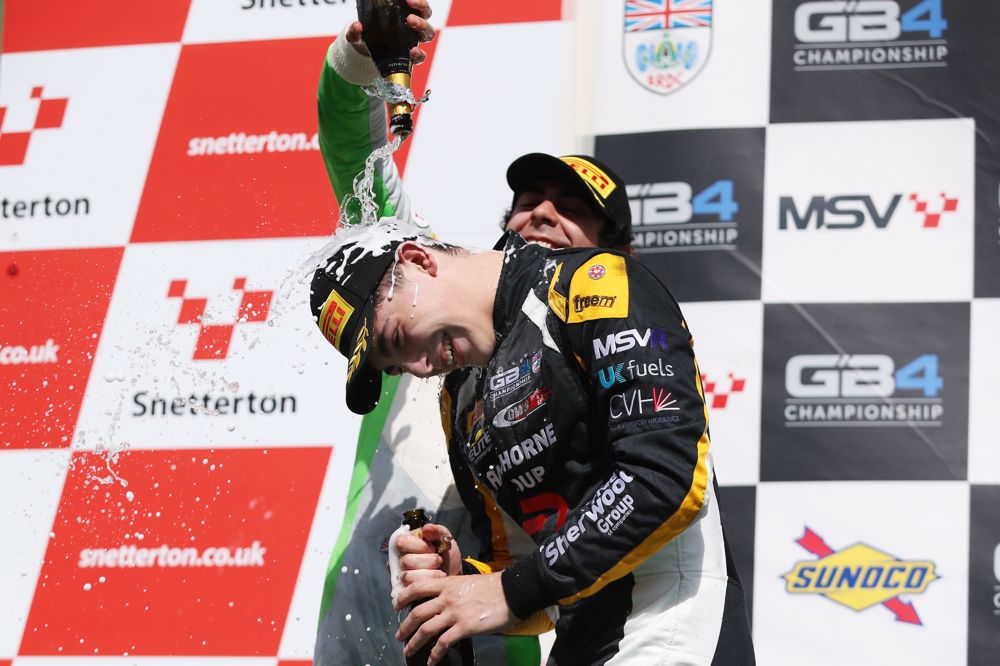 Talking of podium runs, no-one can hold a candle to Jack Sherwood's recent run of form for Elite Motorsport at the moment! The 16-year-old Brit has now claimed five podium finishes in a row, which was capped off by a superb maiden single-seater victory in the final race at the team's local circuit, over three seconds clear of his opposition. He's 60 points off the championship lead, so a title challenge may be a little too much to ask, but he's certainly established himself as a single-seater star to keep an eye on for the rest of the season.
Taylor on the verge of winning George Russell Pole Position Cup


Fortec's Nikolas Taylor may have lost the championship lead at Snetterton, but another double pole at Snetterton means he's inching closer to winning the inaugural George Russell Pole Position Cup. The Anglo-Malaysian contender has six pole positions now, and with the future of Alex Walker (who has three poles) uncertain, a single pole position at Silverstone next time out could well ensure Taylor scoops the first major prize of the season. That would ensure he follows in the footsteps of F1 star Russell, who won the Pole Position Cup in his title-winning BRDC F4 campaign in 2014.
A return to Snetterton provides a real progress comparison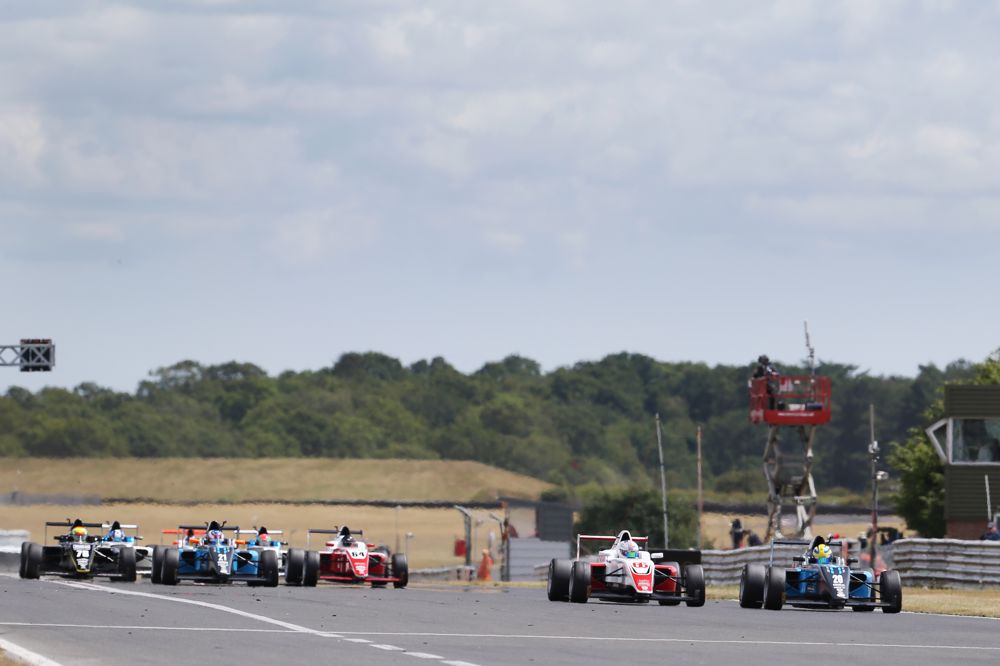 GB4's return to Snetterton provided the first real comparison of the progress made by the grid this season. Though last weekend was significantly warmer than the season opener in April, with higher track temperatures usually resulting in slower lap times, every single driver on the grid bucked the trend by lapping quicker in qualifying than just under three months ago. The biggest improvements came from Megan Gilkes and Chloe Grant who both found over two seconds worth of lap time gains! Tom Mills, Max Marzorati, Jack Sherwood, Logan Hannah and Jessica Edgar each found over a second, while Nikolas Taylor and Jarrod Waberski found a few tenths as well. It's clear then, that GB4 is giving a perfect opportunity for these young drivers to develop and improve their skills.
Marzorati's fourth drag race to the line at Snetterton

That last lap though...

Sheer drama from @nikolasgtaylor, @tommills_21, @MaxMarzorati, @Jacksherwood78 and Megan Gilkes at @SnettertonMSV! pic.twitter.com/V8zGDxYJuz

— GB4 Championship (@GB4Championship) June 30, 2022

We've said it before, and we'll say it again, but Max Marzorati simply doesn't do boring. The aviator-wearing, championship-leading fashionista was involved in his fourth tight finish of the year at Snetterton, as he out-dragged Jack Sherwood to the line for second place by just 0.086s. After three similar finishes at the inaugural round, and a few other close runs to the line at other circuits, it's become a common theme that the 'Phoenix' provides almost guaranteed drama in GB4! Drama aside, it was a vital weekend for the Hillspeed contender, with his highest season score of 71 points propelling him to the championship lead for the first time this year.
Mills' podium return ends tricky spell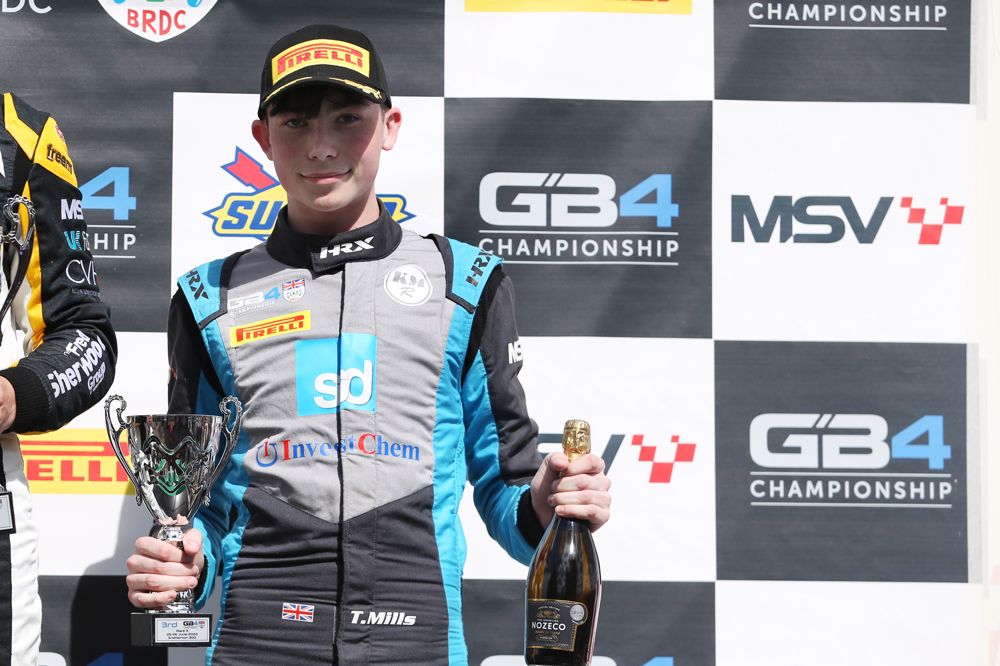 The Snetterton event was a return to front-running form for Kevin Mills Racing's Tom Mills, who scored his first podium since the Oulton Park event in the middle of April. A tricky run for both driver and the team has seen lots of hard work put in back at the squad's Gloucestershire base, with the cars receiving an overhaul while Mills also focused on his driving. That paid off handsomely at Snetterton as Mills qualified on the front row for the first time, and while an out of position start scuppered his opening race, and contact with Taylor spoiled the second, it finally all came together in race three as Mills battled to third from second-last on the grid. With a boost of confidence, expect Mills to figure at the front for the rest of the season.
Grant's best weekend yet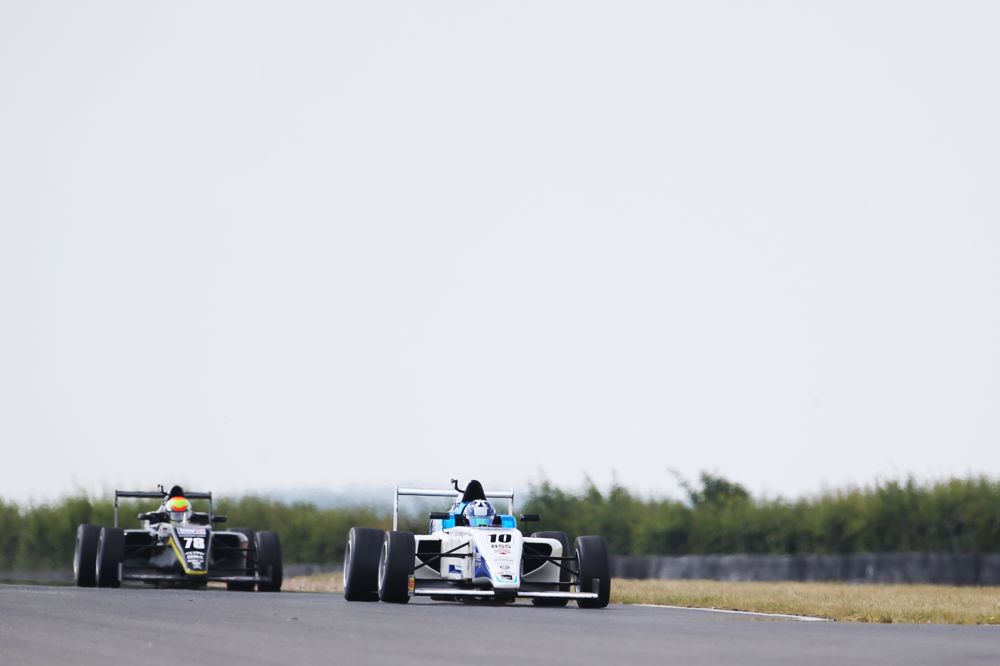 Graham Brunton Racing's Chloe Grant enjoyed her best weekend of the season too, not just in terms of race results, but on pure pace as well. For comparison, at the first weekend of the season the Laser Tools-backed youngster qualified 3.3 seconds away from pole position, but three months later, she was just 1.4 seconds away from the front. She also completed the first two race distances with a combined time over a minute faster than at the first round, and bagged her three best results of the year too. Rapid progress is being made by Grant, who is getting stronger with every race weekend, and got firmly stuck in at Snetterton too, courtesy of some entertaining battles with teammate Logan Hannah!