GB4 delivered quite a show on its first visit to Silverstone, with three tremendous contests on the Grand Prix circuit. As well as the awesome action, there were several other storylines that are worth a mention too…


Grant getting ever closer to the pace with help from a famous friend!
Time flies! ?? pic.twitter.com/PqgLKOE3U1

— Chloe Grant ?????????????? (@chloeannagrant) May 8, 2022

There's no doubting that Chloe Grant is making a big jump up from the Junior Saloon Car Championship into GB4 this year, and she's fully aware of the task ahead of her too. But there are clear indications that the 16-year-old Scottish racer is making big progress. For the first time, she was within the 103% threshold in qualifying, allowing her to start at the front of the grid in the final race. On a circuit as long and challenging as Silverstone, that's a key milestone. Her average qualifying performances up until now had been around 103.5% of the fastest time, but at the home of the British Grand Prix she was within 102.6%. That's a big improvement, and perhaps the presence of Indy 500 legend Dario Franchitti in the Graham Brunton Racing awning helped too!

Another weekend, another set of charity graphics
Another race weekend, more charity artwork on Elias Adestam's @FortecM car! pic.twitter.com/fHymgWifjQ

— GB4 Championship (@GB4Championship) May 6, 2022

In Formula One, teams are removing more and more paintwork off their cars in a desperate bid to save grams of weight, but that's clearly not a problem in GB4, as Elias Adestam continues to add colour to his Fortec Motorsport machine! At Oulton Park, the Swedish youngster ran with two drawings on his car produced by young cancer sufferers at the Karolinska University Hospital in Stockholm, and at Silverstone he added four more creations. The pieces, provided by Matheo, Daphne, Haeleman and Signe, aged between one and eight-years-old, adorned the cockpit sides of his Tatuus F4-T014. It's a lovely touch from the 16-year-old, and we sincerely hope his car is fully covered in creations by the end of the season!

Marzorati a phoenix on and off the track


Rising like a phoenix from the ashes is Max Marzorati's description of his return to racing this year. At the end of 2021 he thought his racing career was over but GB4's cost-effectiveness has allowed him to get back on track, and he's not only racing, but well in the championship fight. That has been recognised by American clothing brand Black Phoenix Apparel, which has produced a small range of Marzorati merchandise with 5-10% of each sale going to Mental Health America. Each item Max sells also earns money for UK automotive charity Ben, so be sure to visit 'The Phoenix' himself to pick up a fetching t-shirt or baseball cap at the next GB4 round! And sticking with the phoenix theme, Marzorati has gained at least one place on the first lap of EVERY race so far this year!

Walker keeps it in the family


Groups of family and friends at motorsport events are common, and at his local Silverstone round, Elite's championship leader Alex Walker had plenty of supporters backing him. Aunties, uncles, cousins and more were all there to give the Bedford-based star their backing, and he rewarded them with another podium and some stunning wheel-to-wheel racing. Among his guests included his grandfather, a key member of the Audi touring car team in the 1990s!

Spanish F4 Championship-winning car victorious again with Oldfield Motorsport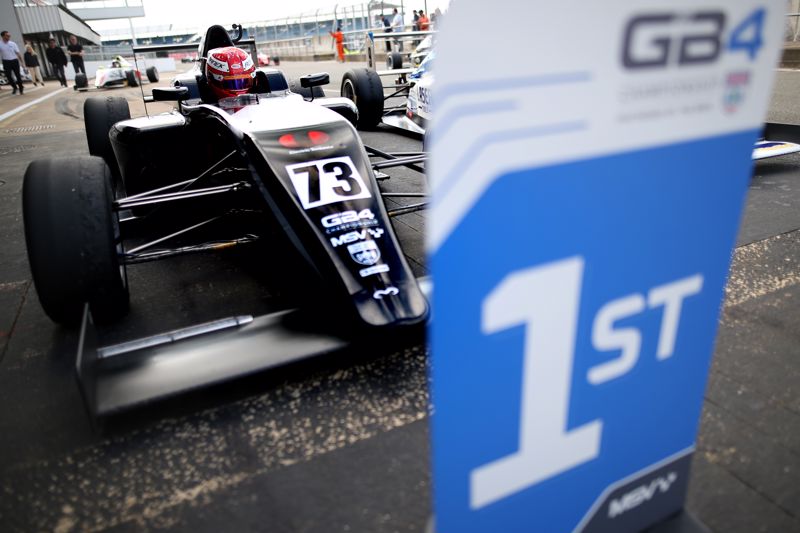 The Oldfield Motorsport team were optimistic of making their GB4 debut at Silverstone, but until Tuesday evening of race week, they didn't know for sure that they'd be on the grid. But once it was confirmed that their Formula Ford contender Lucas Romanek was ready to make the step up, the team was ready to go and despite missing a bit of sleep, James Oldfield and his squad had the car sorted in time for testing on Thursday morning. Romanek rewarded their efforts by consistently pumping in lap times of 2m03s or thereabouts, leaving the team satisfied and confident for the main event. He replicated that pace in qualifying, scored well in the first two races, and then carved his way to the front of the field in race three, taking victory for the team on their first weekend in the championship. It also marked the 11th race win in four different countries across the past 12 months for their Tatuus F4-T014 car, which was driven by Dilano van 't Hoff to championship glory in Spanish F4 last year!

If you want a festival of overtaking, look no further than GB4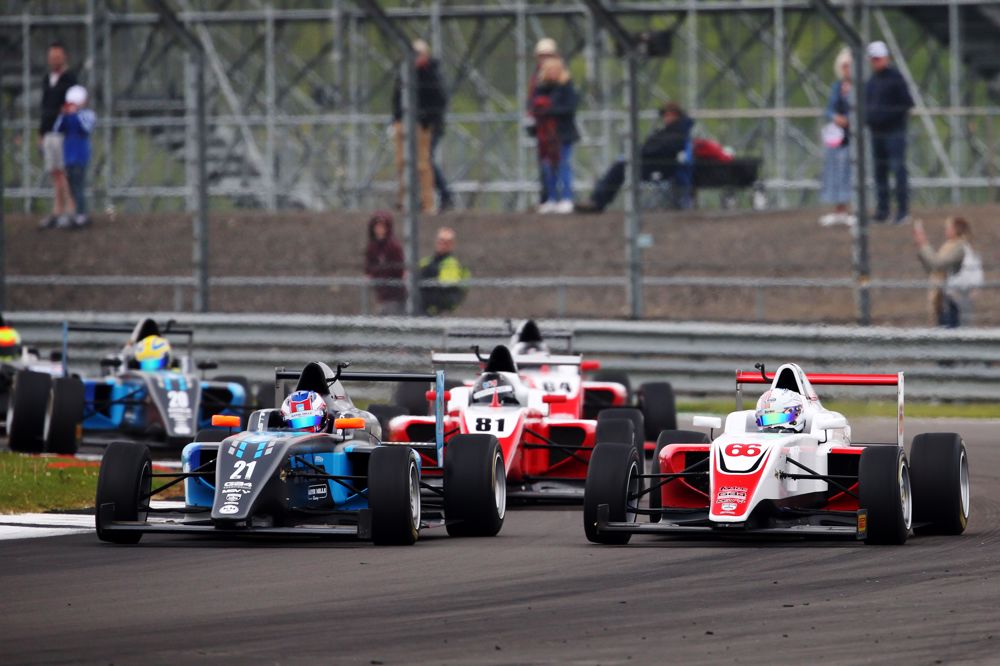 The three races on the Silverstone Grand Prix circuit produced some of the most exciting single-seater racing seen in the UK for some time, with lead changes and incredible racing throughout the field in each race. For most observers, race two on Sunday morning was the best encounter of the lot, with eight cars battling for the lead and no fewer than five lead changes inside the first four laps. Across the whole event, there were eight changes for the lead, leaving thousands of viewers on the edge of their seats, team managers with chewed fingernails and drivers emerging from their cars with beaming smiles on their faces. More of the same at Donington please!